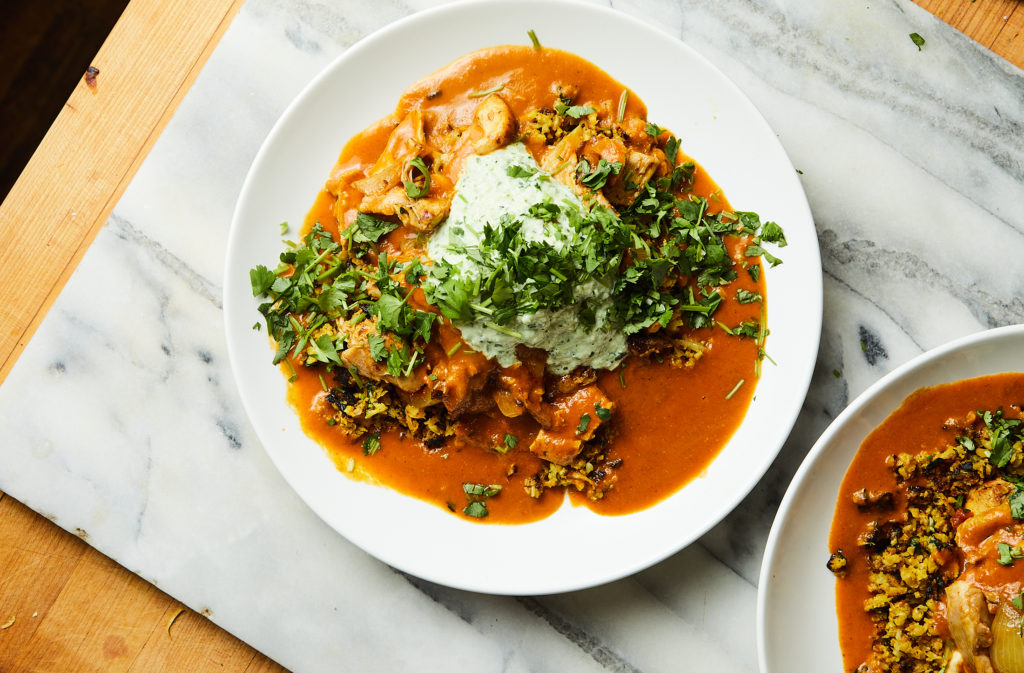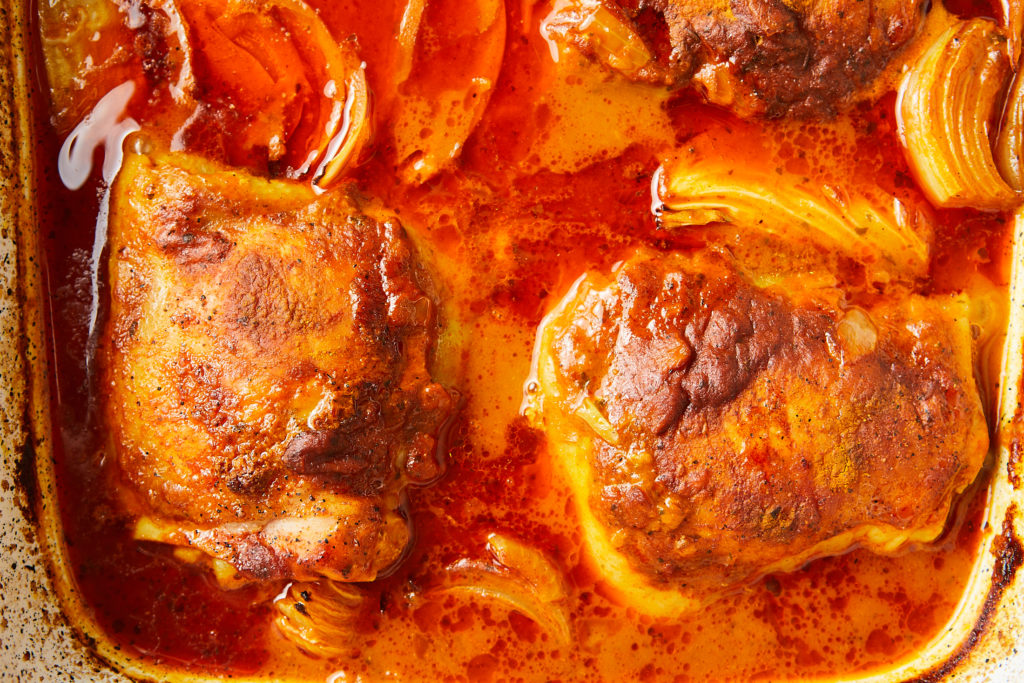 I first had chicken tikka masala at home, complete with lime pickle, naan, the most perfect basmati rice and raita. The lime pickle is a very different flavor that just has to be tried to understand. Earthy and spicy yet a strong tart note that cuts through the richness of the curry. The balance of all flavors together sticks with you for ages. I've done the simple raita presented to me over and over, always tweaking it a little to see what improvements I could make to have balance. With the new year I'm doing intermittent fasting and Rebecca is on a meal plan so we're finding ways to make dinner plans that not only help us reach our goals but taste good. Being food photographers we're constantly handed really gorgeous food to shoot and encouraged to try nearly everything we photograph when on location at a restaurant so don't worry, we'll still get plenty of cheat meals in. One of the best ways to tame our carb intake in a meal like curry is to omit the rice and naan. It also allows a few more calories to spend on things like chicken. Normally I chop the chicken up and stew the pieces in the sauce but I was wanting to try a different process because that's just fun. I put my four chicken thighs (we had leftovers) in a jar of simmer sauce, cleaned out with some water to rinse the extra sauce out of it to make sure the thick sauce didn't over reduce while braising.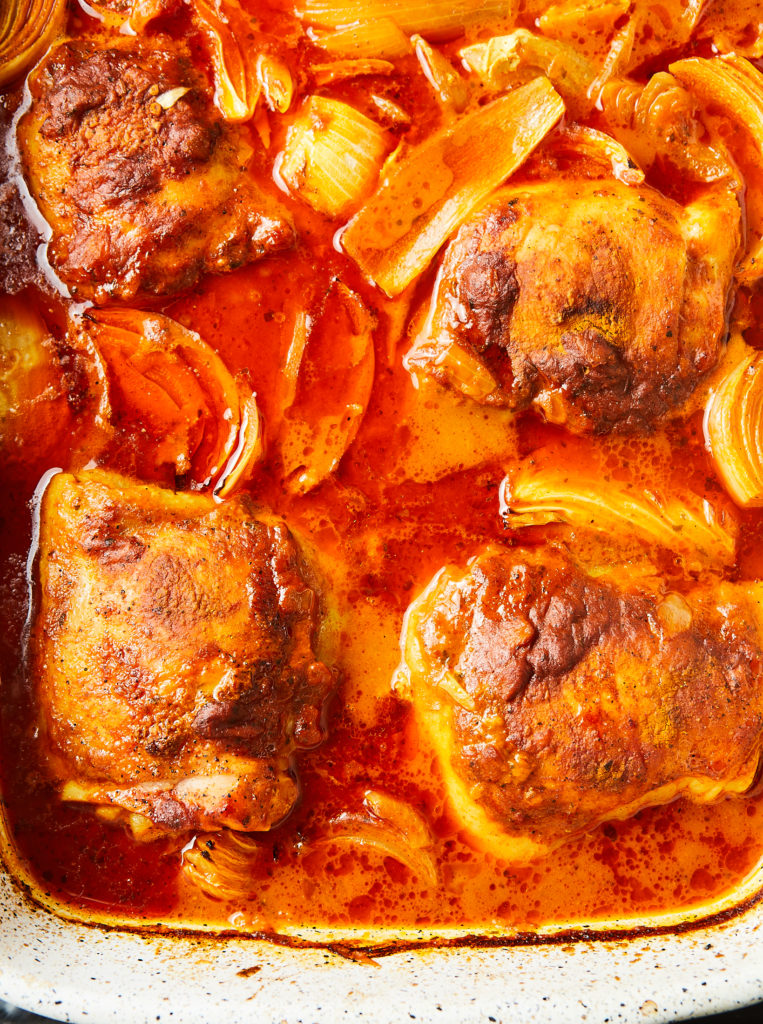 Most tikka sauces come ready for tomatoes as well so I added some fresh vine tomatoes I had on the counter, a whole onion and popped it in the oven to braise at 375 degrees. After my chicken hit 175 degrees, I pulled them out of the sauce with about 1/4 of the onion, tossed it into cast iron for a few minutes under the broiler, set to low. The skin crisped up a bit and I pulled the thighs out to rest while I threw the sauce and the 3/4 of onion into my vitamix to puree.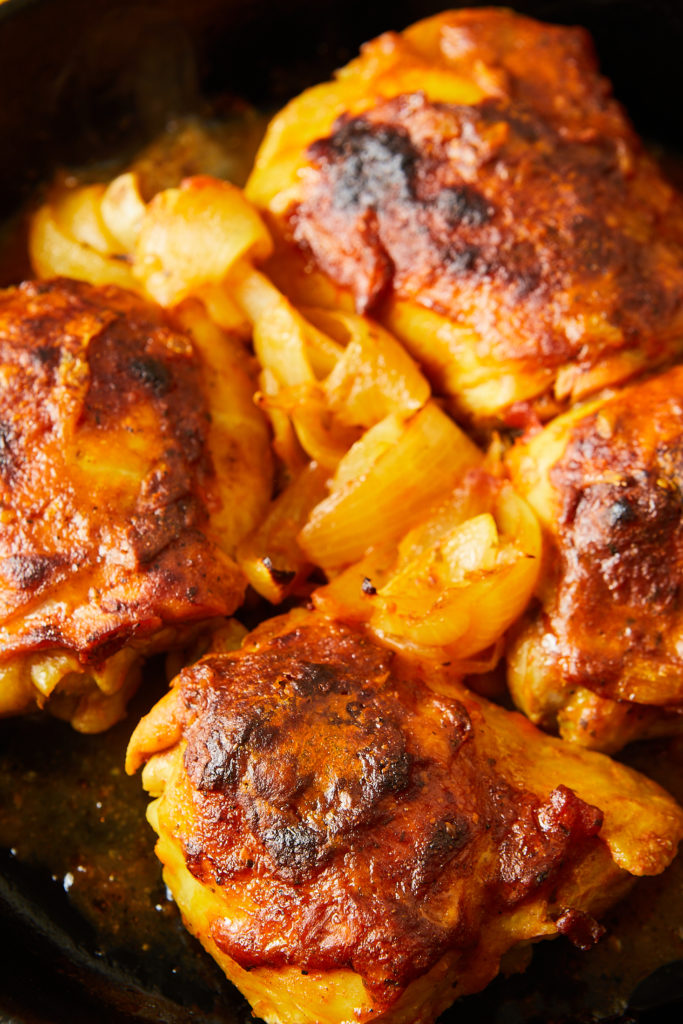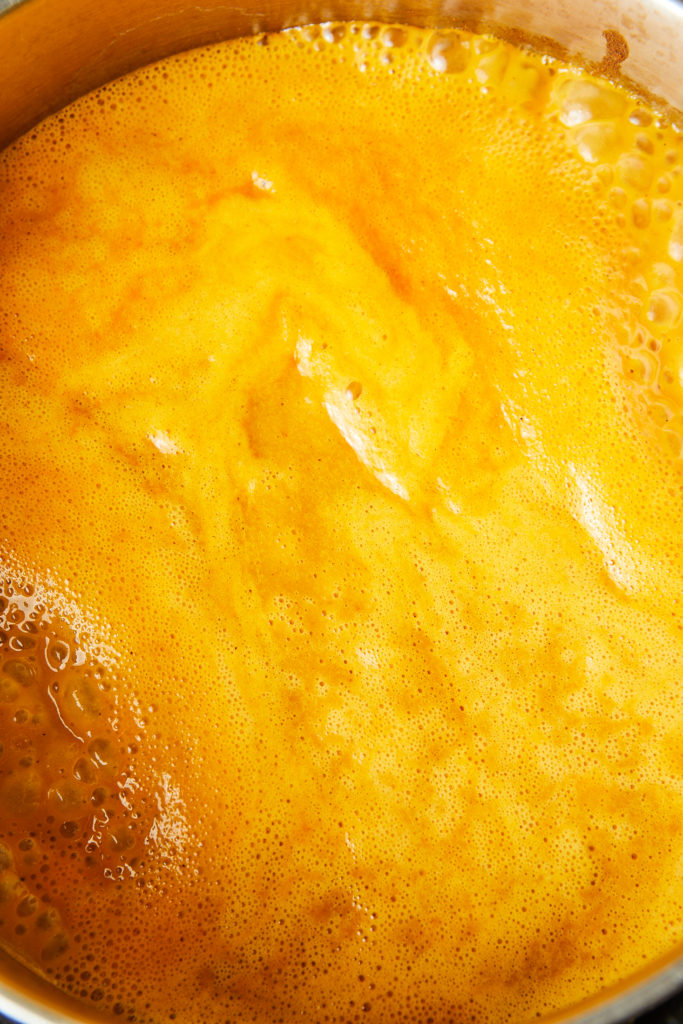 Once I had a perfectly smooth sauce, it needed a bit of reducing to thicken up so it was tossed in a sauce pan to simmer while I deboned chicken and made cauliflower rice. The first time I made cauliflower rice I tossed it into my food processor all willy nilly with the standard dual blade and it was TERRIBLE. This time I utilized the shredding wheel that leaves space for the veg to fall below and it's perfection. I sauteed garlic in a bit of olive oil, tossed in the whole shredded cauliflower and cooked it until some of it started to brown, added tumeric and smoked paprika finished with salt and cilantro.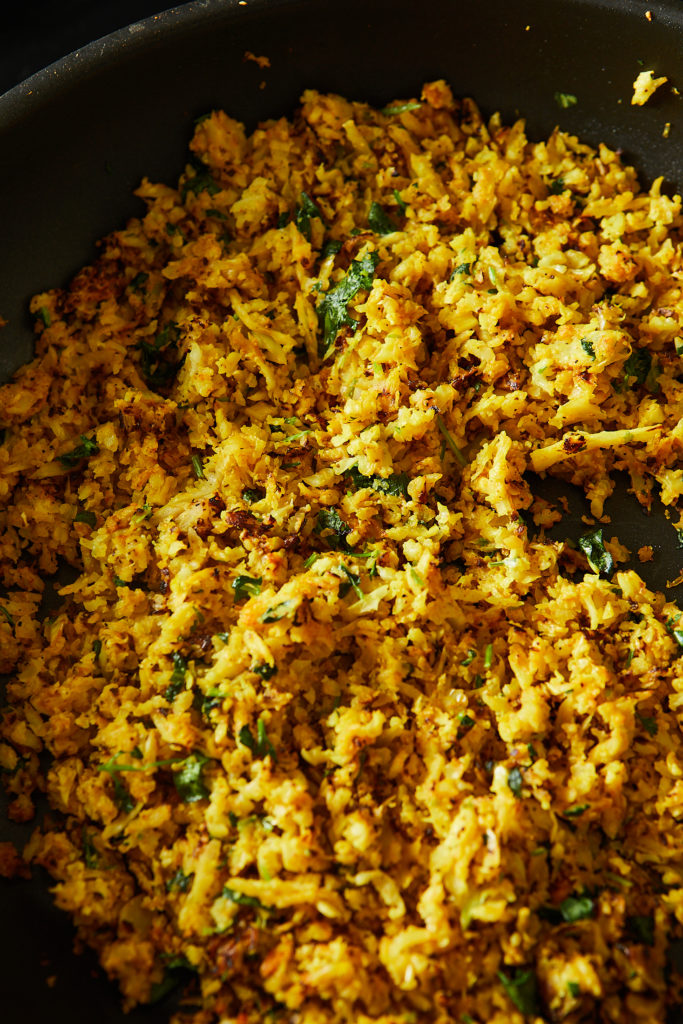 The final step with the chicken was to cut it off the bone, cube it and get a hot sear in the cast iron. I let the meat stick just a touch and tossed in the onion I set aside along with the bit of liquid around them to deglaze the pan. As this was all resting I assembled my Raita. Since I didn't have any lime pickle I figured a bit of lemon rind peeled off (with no white) and sliced very small would give the notes needed to get that bit of pungent citrus note that I love so much. That added with a 1/4 english cucumber and 1/4 cup of greek yogurt, a pinch of salt, 1/2 bunch of rough chopped cilantro into my vitamix and gave it a slight spin to break up the cucumber and add some liquid into the yogurt. Next time I'll set half the cucumber to the side in chunks and just puree the cucumber with the yogurt and maybe add in some cumin as well.
In the end this wasn't a traditional preparation but I feel like it's very close to the essence of what makes tikka masala so good. Rich sauce, tender chicken, balanced by yogurt and fresh cilantro. Next time I'm taking the heat levels up a notch, using more tomato and fixing my raita but I hope you enjoyed my process.
Ingredients:
4 chicken thighs
1 cauliflower head
1 sweet onion
1 bunch cilantro
1 jar tikka masala simmer sauce
4-6 fresh tomatoes or a can of tomato
2 garlic cloves
kosher salt
1/4 cup yogurt
1/4 english cucumber, peeled
tumeric
smoked paprika